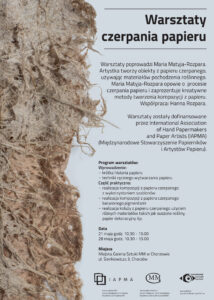 Warsztaty poprowadzi Maria Matyja-Rozpara. Artystka tworzy obiekty z papieru czerpanego używając materiałów pochodzenia roślinnego. Maria Matyja-Rozpara opowie o procesie czerpania papieru i zaprezentuje kratywne metody tworzenia kompozycji z papieru.
Współpraca: Hanna Rozpara
Warsztaty zostały dofinansowane przez International Association of Hand Papermakers and Paper Artists (IAPMA, Międzynarodowe Stowarzyszenie Papierników i Artystów Papieru).
Program warsztatów:
– krótka historia papieru
– techniki ręcznego wytwarzania papieru
– realizacja kom,pozycji z papieru czerpanego z wykorzystaniem szablonów
– realizacja kompozycji z papieru czerpanego barwionego pigmentami
– realizacja kolaży z papieru czerpanego z użyciem różnych materiałów takich jak suszone rośliny, papier dekoracyjny itp.